Prof. Dr. Sven Laumer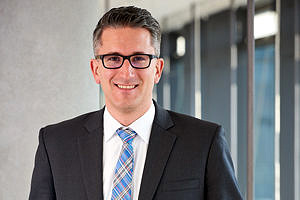 Schöller Stiftungsprofessur für Wirtschaftsinformatik, insbesondere Digitalisierung in Wirtschaft und Gesellschaft
Lebenslauf
Sven Laumer studierte von 2002 bis 2007 Wirtschaftsinformatik an der Otto-Friedrich Universität Bamberg und dem Institute of Technology Tallaght, Dublin, Irland. Anschließend war er sowohl als wissenschaftlicher Mitarbeiter und als Akademischer Rat a.Z. am Lehrstuhl für Wirtschaftsinformatik, insb. Informationssysteme in Dienstleistungsbereichen an der Universität Bamberg tätig und war dort Vizedirektor des Centre of Human Resources Information Systems.
2014 war er Gastwissenschaftler am Cognitive User Experience Lab in the Watson Research Lab bei IBM Research in Cambridge, USA. Er wurde im Jahr 2012 für seine Arbeiten über Widerstände gegenüber IT-bedingten Veränderung promoviert. 2017 wurde ihm für seine Habilitation "The Digitalization of Work and Life: Empirical Studies of its Bright and Dark Sides" durch die Universität Bamberg die Lehrbefugnis für Wirtschaftsinformatik verliehen. Seit 2018 ist er Inhaber der Schöller Stiftungsprofessur für Wirtschaftsinformatik, insbesondere Digitalisierung in Wirtschaft und Gesellschaft an der Friedrich-Alexander Universität Erlangen-Nürnberg.
Seine Forschungsarbeiten fokussieren auf digitale Arbeits- und Lebenswelten und insb. auf
die individuelle Nutzung und Überlastung durch digitale Technologien ("Digitalization of the Individual", Auswirkungen der digitalen Transformation auf individuelle Einstellungen, Verhaltensweisen, Gesundheit und Leistungsfähigkeit sowie Abhängigkeit und Techno-Stress in digitalen Arbeits- und Lebenswelten),
die "Digital Workforce" (Gestaltung von digitalen Arbeitssystemen, neue Formen und Zukunft der Arbeit, virtuelle Teams, digitales Personalmanagement, E-Recruiting, digitales Change-Management) sowie
digitale Geschäftsmodelle und E-Services (Chatbots: Chancen, Techniken, Herausforderungen und Konsequenzen für E-Services).
Mehr Informationen finden Sie auch auf der Website des Lehrstuhls.
Aktuelle Publikationen
2022
2021
2020
2019
2018
2017
2016
---