Prof. Dr. Patrick Zschech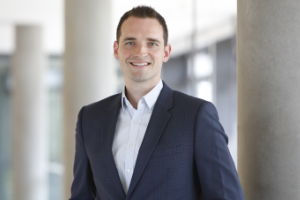 Juniorprofessur für Intelligent Information Systems
Lebenslauf
Patrick Zschech studierte von 2008 bis 2015 Wirtschaftsinformatik im Bachelor- und Masterprogramm an der Technischen Universität Dresden (TUD). Zwischenzeitlich verbrachte er 2010 bis 2011 einen Auslandsaufenthalt an der Universidad de Granada (UGR) in Andalusien. Nach seinem Masterabschluss arbeitete er bis 2018 beim IT-Dienstleister Robotron Datenbank-Software GmbH als Dozent für innovative Data-Science-Befähigungsprogramme und beteiligte sich als Projektmitarbeiter an der Entwicklung von Lösungskonzepten in den Bereichen Industrie 4.0 und Internet of Things. Zugleich war er als Wissenschaftlicher Mitarbeiter am Lehrstuhl für Wirtschaftsinformatik, insb. Business Intelligence Research, an der TUD tätig, wo er im August 2020 erfolgreich seine Promotion zum Thema "Data Science and Analytics in Industrial Maintenance" abschloss. Seit Januar 2021 ist Patrick Zschech Inhaber der Juniorprofessur für Intelligent Information Systems am Institut für Wirtschaftsinformatik.
Die Forschungsschwerpunkte von Patrick Zschech liegen in den Bereichen Business Analytics, Maschinelles Lernen und Künstliche Intelligenz. Er beschäftigt sich insbesondere mit der Gestaltung, Analyse, und Nutzung von intelligenten Informationssystemen, die auf Verfahren und Technologien der modernen Datenverarbeitung beruhen (z. B. Deep Learning, Computer Vision, Natural Language Processing, Process Mining). Eines der Hauptanwendungsgebiete liegt hierbei im Bereich der industriellen Fertigung. Zudem beschäftigt er sich mit der Analyse und Gestaltung von innovativen Befähigungsansätzen zur Vermittlung von Data-Science-Kompetenzen sowie mit Ansätzen zur Akzeptanzsteigerung von KI-Systemen aus sozio-technischer Perspektive.
Mehr Informationen finden Sie auch auf der Website der Juniorprofessur.
Aktuelle Publikationen
2023
2022
2021
2020
2019
2018
2017
2016