Prof. Dr. Evi Hartmann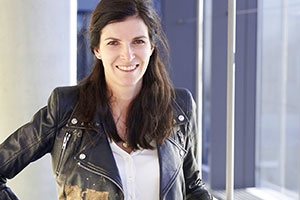 Inhaberin des Lehrstuhls für Betriebswirtschaftslehre, insbesondere Supply Chain Management
Lebenslauf
Evi Hartmann studierte Wirtschaftsingenieurwesen an der Universität Karlsruhe (TH). Nach Forschungsaufenthalten an der University of California und der Haas School of Business in Berkeley, USA, erhielt sie 1997 ihr Diplom als Wirtschaftsingenieurin. Promoviert wurde Evi Hartmann 2002 am Institut für Technologie und Management der Technischen Universität Berlin. Von 1998 bis 2005 arbeitete sie als Beraterin bei A.T. Kearney. Anschließend erhielt sie eine Juniorprofessur für "Purchasing and Supply Management" am Supply Chain Management Institute an der European Business School, Schloss Reichartshausen. Dort wurde sie 2008 in Betriebswirtschaftslehre habilitiert. Seit April 2009 ist sie Inhaberin des Lehrstuhls für Supply Chain Management an der Universität Erlangen-Nürnberg.
Die Forschungsschwerpunkte von Prof. Hartmann liegen in den Bereichen Einkauf, Supply Chain Management und Strategic Foresight. Die Forschungsaktivitäten werden in fünf Forschungsbereichen gebündelt. Dabei zeichnet sich ihre Forschung besonders durch praxisnahe, umsetzbare Forschungsansätze aus, wie zahlreiche Forschungsprojekte und die starke Interaktion mit Unternehmen zeigen. Prof. Hartmann ist Autorin zweier Bestseller und betreibt zudem den wöchentlichen Blog "Weltbewegend", welcher die Themen Moral, digitale Transformation und Nachhaltigkeit im Wirtschaftsgeschehen adressiert.
Mehr Informationen finden Sie auch auf der Website des Lehrstuhls.
Aktuelle Publikationen
2023
2022
2021
2020
2019
2018
2017
2016
---